Biogas Upgrading Plant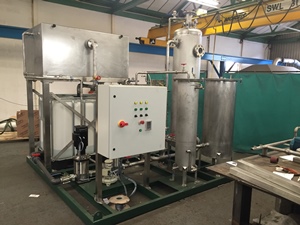 Producing heat accounts for almost half of UK energy use and a third of UK carbon emissions.
Biogas Products Ltd have developed a farm-scale biogas CO2 scrubber that upgrades biogas to a quality which can be used to heat buildings and fuel suitably converted vehicles and agricultural machinery. We have built a full-scale pilot biogas upgrading plant which has proven that our technology is economically viable at this scale.
The Renewable Heat Incentive (RHI) scheme provides financial incentives to households and non-domestic consumers who move from conventional forms of heating to low-carbon alternatives. For more information about Non-domestic RHI click here.
The CO2 scrubber is sized for biogas flows of 0-14m3/hr which will produce 0-7m3/hr of Biomethane or RNG (renewable natural gas).
The CO2 Scrubber can be purchased as a stand-alone item. We can also supply a complete package of equipment that will take your biogas and upgrade it to RNG and inject it into storage bottles at 200bar.
The plant is designed to be robust and straight forward to use. The biogas inlet flow can be adjusted and the plant switched on/off to suit site requirements.
Make the process entirely self-sufficient. We can include a micro CHP electricity generator which will use biogas to power the whole installation.
Application Example
RNG (Renewable Natural Gas)
The energy content of 1m3 RNG (98% methane) is equivalent to 1 litre of diesel.
(For every 1m3 of RNG that is burned as a heating fuel an emission of 2.67kg CO2 is saved)
Manufacturing 5m3/hr of RNG x 24hrs/day x 365 days = 43,800m3/annum
43,800m3 of RNG is equivalent to 429,240kWhrs of energy.
What can we do with it?
Heating
The most efficient use of this energy would be to burn and use for heat. (95% efficiency)
A typical domestic energy consumption figure for gas is 16500kWhrs/annum
5m3/hr RNG = Heating for 25 Houses.
CO2 saving = 41,610kg
Electricity
The least efficient use of this energy would be to burn and use to generate electricity (30% efficient)
A typical domestic energy consumption figure for electricity is 3300kWhrs/annum
5m3/hr RNG = Electricity for 39 Houses.
CO2 saving = 13,140kg
Car or small Van fuelling (Petrol/cng hybrid)
Approx 5000m3 of RNG is required to drive a car or small van 50,000miles/annum
5m3/hr RNG = Fuel for 9no Vehicles
CO2 saving = 62,100kg