Condensate Pots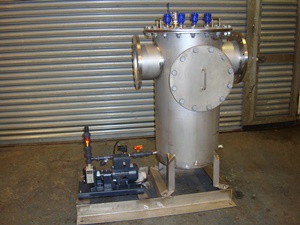 Condensate pots are strategically placed in biogas pipework systems to collect and discharge water that is released from the cooling biogas.
We manufacture condensate pots configured to your specification. Or we can advise on the most appropriate design based on your biogas flow and pressure.
Our standard design is manufactured in 316 Stainless Steel with an automatic water discharge system. Trace heating and insulation can be provided to protect the condensate pot from freezing weather conditions.
All condensate pots are pressure tested before dispatch and test certification is provided.
Compliance standard PED97/23/EC