Micro combined heat and power - for grid connection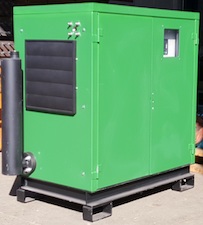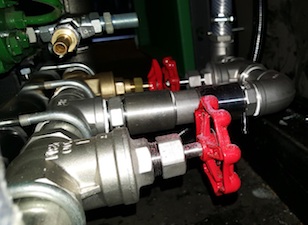 The micro combined heat and power (CHP) system is designed and manufactured in the UK. The reliable and durable kit is a cost-effective solution for generating electricity from biogas, making it perfect for agricultural environments.
The Micro CHP maybe small but its electrical efficiency rivals that of much larger engines. It has been cleverly designed to remove any unnecessary elements, including the booster pump, reducing the size, production cost and risk of failure.
The system is supplied with a sophisticated CPU based control system as standard, which provides machine protection, control and monitoring. The control system can be easily integrated with the anaerobic digester's main controller providing remote start and stop, health status and error reporting information via dedicated signal lines, internet or even SMS.
The standard models available are:
The 3.8 kWe single phase biogas CHP (classed as a G83 device)
The 5.7 kWe single or 3-phase biogas CHP (single phase model classed as a G59 device)
The 11.4 kWe 3-phase biogas CHP (classed as a G83 device)
Other sizes are available on request so please Contact Us to discuss your requirements.
For more information about the features of the innovative product please download the data table below.


Micro combined heat and power - data sheet