Double Membrane Gas Holder
Main features: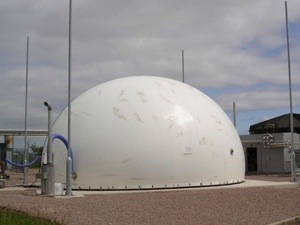 Sizes up to 16,000m3
Pressure from 5-50 mbar
UK manufactured designs
Reference projects across the UK
Safe Contractor accreditation
What we do:
Biogas Products Ltd works with Italian specialist company, Ecomembrane S.r.l, to supply the UK with quality membrane gas holders in a range of sizes, from 10 to 16,000m3, and pressure, 5-50 mbar. Combining our extensive knowledge and expertise we can provide an engineered solution, quality product and professional installation for any size or space.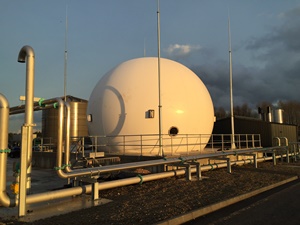 We have also developed a simplified UK design and manufactured membrane gas holder for smaller scale agricultural projects. Available in up to 250 m3 it is an environmentally friendly and cost effective solution for biogas storage for on farm anaerobic digestion plants.
Benefits:
Membrane gas holders are the most flexible, economical, reliable and efficient biogas storage solution available on the market. The membrane gas holder is fundamental to the process of anaerobic digestion by ensuring a regular supply of biogas is available for the rest of the plant to operate consistently and efficiently.
Membrane gas holders can be manufactured significantly faster than any other biogas storage solution and in addition are resistant to the corrosive nature of H2S gas. The membrane gas holder comes with a fully automated control panel which is easy to operate and requires minimal visual maintenance.
Downloads:

Project Reference - Rushmoor WwTW - Severn Trent Water

Membrane gas holder information sheet (PDF)

Membrane gas holder size chart (PDF)

Ecomembrane Srl.  brochure (PDF)
Related products: