Membrane Tank Covers
Main features: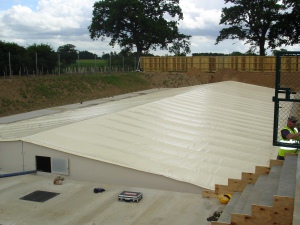 Unique lightweight support structure
Cover large tank systems
UK design and manufactured product
Odour control
Keep rainwater out
What we do:
Biogas Products Ltd has developed a unique fixed membrane tank cover which is ideal for enclosing large rectangular or circular storage systems including aeration, effluent and slurry tanks. Fabricated in our West Midlands workshop, the adaptable, lightweight galvanised steel membrane support structure has been specifically designed for easy and cost effective installation.
The tank covers are made from ultraviolet stabilised reinforced PVC membrane and sourced from UK specialist supplier. The membrane cover is made up of a series of 5 metre wide panels which can easily be removed from the support structure for access to the tank. Manway access hatches and pipe connections can be provided.
Benefits:
A membrane tank cover can be fitted to new or existing tanks to prevent rainwater entering the storage system. As a result, this simple measure could increase the storage capacity of your tank by up to 25%. Furthermore, by including a cover when installing your new tank, you will be able to reduce the size of the tank quite considerably.
Adding a tank cover can also significantly reduce odours and ammonia loss by 80 – 90%. Also, particularly for agricultural purposes, adding a tank cover can mean a more concentrated and nutrient rich by product which is cheaper to dispose of.
There is also the potential to collect the clean water run off from the cover to save on water costs or harness the gases contained under the cover to generate heat and power.
Project References:

Downloads:

Membrane Tank Covers Information Sheet (PDF)
Related products: