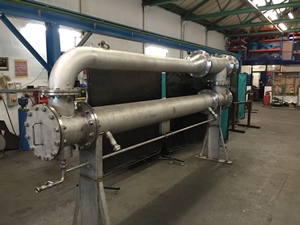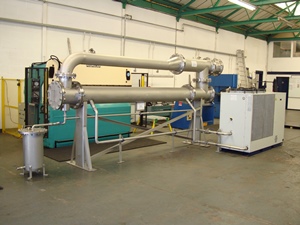 Client: Nomenca (United Utilities)
Summary: Biogas Dehumidifier
Value: £36,000
Project scope:
The Anaerobic Digester plant at Crewe WwTW was not achieving peak performance and existing plant was suffering from corrosion due to high levels of humidity in the biogas. Biogas Products were asked to design a solution in order to reduce the relative humidity of the 600m/3 biogas flow from 100% to less than 70%.
Services provided:
Biogas Products Ltd successfully engineered a solution. They designed, manufactured, installed and commissioned a Biogas Dehumidifier that was retro-fitted to the existing Anaerobic Digester. The dehumidifier was designed to cool the biogas, using a cold water heat exchanger. As the biogas is cooled it releases water, which is removed and collected in a condensate pot. The biogas is then reheated using a biogas/biogas heat exchanger before it enters in the CHP engine. All equipment was manufactured in 316 stainless steel.
Results:
As a result the the biogas is now of a quality that meets the generator suppliers specification requirement.