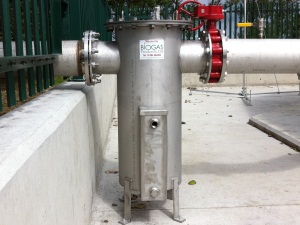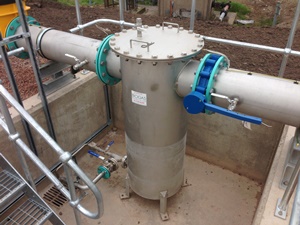 Client: Various sites across the UK
Summary: Condensate pots
Value: Approx £3,000
Project scope:
A number of clients experience issues with moisture collecting in their biogas pipework and need to find the optimum point in the process to remove this moisture before it causes damage to mechanical plant.
Services provided:
Biogas Products Ltd have manufactured and installed hundreds of condensate pots for a number of different clients in the UK. Each condensate pot is designed and manufactured to the clients specific requirements and is made from the highest quality 316 stainless steel. Here's an example:
Hastings WwTW condensate pot for Southern Water
Biogas Products installed a condensate pot into an existing biogas pipework system. The condensate pot was manufactured using 316 stainless steel with a 300mm flanged connections which collects and automatically discharges condensate from the biogas main.
Results:
Mechanical plant has been protected from damage by removing condensate from the system. Removal of moisture also allows the entire process to work much more efficiently.