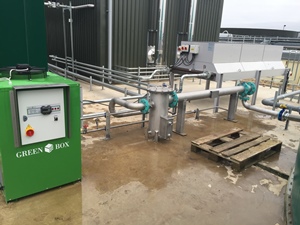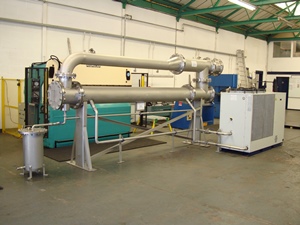 Client: RHJ Farms Ltd
Summary: Biogas Cooler
Value: £17,250.00
Project scope:
After a thorough site inspection we advised our client that in order to reach optimal operating efficiency on their existing Anaerobic Digester plant that they should take measures to reduce the temperature of their 200m3 biogas flow by a minimum of 20 degrees centigrade. This would result in the removal of 3 litres of moisture an hour from their biogas flow and improve the efficiency of their CHP engine.
Services provided:
As a result Biogas Products Ltd successfully designed, manufactured, installed and commissioned a Biogas Cooler that was retro-fitted to the existing Anaerobic Digester between the gas holder and CHP engine. The Biogas Cooler was manufactured in 316 stainless steel consisting of a water/biogas heat exchanger, condensate pot and separate industrial scale water chiller.
Results:
As a result, water collection in the gas lines has now been removed and the gas quality is now of a standard that meets the CHP Generator suppliers specification.