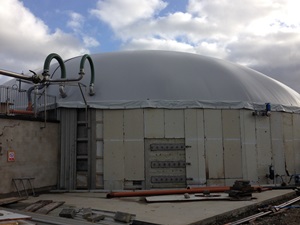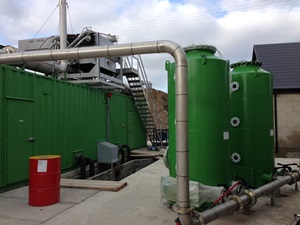 Client: ALG Biogas
Summary: Biogas Dome (insulated)
Value: £79,840
Project scope:
The client had a 26 metre concrete digester tank and wanted a membrane biogas dome to sit perfectly on top of the tank. Biogas Products Ltd recommended that they install an 'insulated' biogas dome, which was 4m in height and had a capacity of 980m3 operating at a pressure of 6mbar. An insulated layer within the biogas dome provides heat retention within the digester tank and stops valuable heat escaping into the atmosphere.
Services provided:
Biogas Products Ltd designed the insulated biogas dome, it was the first of its kind to manufactured and fitted in the UK. They designed, manufactured, installed and commissioned the biogas dome that was retro-fitted to the existing concrete tank. They also supplied and fitted air blowers, level sensor, control panel and a H2S Scrubber.
Results:
Heat loss from the digester has been reduced by 50%, saving 70kWe. This additional heat will be used to fuel a digestive drying process.